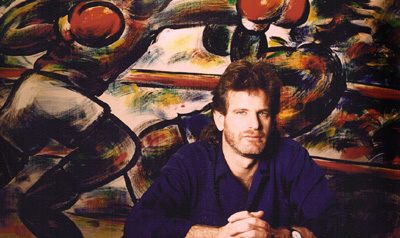 Long Bio of Dale Launer
Dale Launer was born in Cleveland, Ohio 1952. The following year his family moved to Los Angeles, where his father--S. John Launer--pursued an acting career. S. John landed the plum role of the main monster (Dave) in CREATURE WITH THE ATOM BRAIN--a dubious achievement nevertheless notable as the paradigm for many zombie/killer movies to come (i.e.: any movie with "Living Dead" in the title).
As a youth he attended Fullbright Avenue School (he is still friends with his 3rd grade teacher - the brilliant Ronald Rodecker). From there he went to John A. Sutter Jr. High School for a year and a half. His parents moved from Canoga Park to Tarzana, where I went to Gaspar De Portola Jr. High School for another year and a half (From there he went to William Howard Taft High School in Woodland Hills, where not much of note was achieved, but he did take all the offered auto shop classes and then some.
Launer's pursuit of higher education (and a legal dodge of the draft) was enabled by attending Cal State University at Northridge for four years, where he floundered through a number of different majors, eventually ending in film. He did not graduate, but instead dropped after draft ended. In the next eight years, he wrote about ten screenplays of dubious quality. He also started but did not finish two very low budget feature-length films. During this period he worked at a variety of jobs, including refinishing furnituue (at The Peddler in Sherman Oaks), installing the Kelly Klozer automatic screen door closer (which his father invented), stereo salesman at University Stereo and The Federated Group, and was sales manager for Quatre - a manufacturer of high-end audio gear. He also made money fixing up old Porsches and selling them.
His movie-biz break came when the producing team of (Joanna) Lancaster/(Richard) Wagner read a writing sample that so enthused them, they optioned it, set it up and two studios, two directors and a number of drafts later, the movie was produced at Disney titled RUTHLESS PEOPLE, starring Bette Midler and Danny DeVito.
His second produced movie started as a pitch about a blind date gone bad. Real bad. The studios liked it. A bidding war broke out that ended up with Dale getting a precedent-setting deal for an unproduced writer. This caught the eye of entertainment journalist (now producer) named David Friendly at the Los Angeles Times. This was news because he not only set a precedent - he did it without an agent. In Los Angeles this is considered news and made a cover article in the Los Angeles Times (Friday) Calendar section.
The screenplay was written, but the studio wanted changes; a black screwball comedy then turned into a standard screwball comedy. It was offered to Sean Penn and his then wife Madonna, who were interested, but getting a director attached was harder. The screenplay was re-written "by a woman writer to soften it up". The woman writer was Leslie Dixon. Sean Penn and Madonna dropped out. This re-written draft was given to Blake Edwards - who also re-wrote it.
The movie was made with then TV-star Bruce Willis and Kim Basinger. Launer tried to replace his name with that of his registered pseudonym Nigel Grosswanker, but the studio declined.
Launer feels that Blind Date is a lame, slapstick piece of shit. The Los Angeles Time called it "an archaic, lobotomized screenplay by Dale Launer". He disagree with the critique, but disagrees about being given the blame. If you like the movie, "...give the credit to Edwards and Dixon, if you hate it, blame them."
Next up at bat was a project that started with a call from David Bowie's production company. David Bowie and Mick Jagger did a cover of Martha and the Vandella's hit song "Dancin' in the Streets" and people kept telling them they ought to make a movie together. Mr. Jagger has read his script of Ruthless People - which he liked a lot. He even co-wrote the song to it. Launer suggested a remake of Bedtime Story; a movie from the '60's about two competing gigolo/con men which was made at Universal. Despite interest from a few studios, they were convinced Universal wouldn't give up the rights. None of these professional organizations bothered to pop for a $350 title search - if they had, they would have discovered that the rights had reverted back to one of the original writers - none other than Stanley Shapiro; who wrote or co-wrote all those Doris Day "sex comedies" as they were called back then. Stanley and Maurice Richlin had won an Oscar for Pillow Talk. This project - originally titled King of the Hill - was written by Stanley with Paul Henning - who authored The Beverly Hillbillies TV series.
Launer hooked up with Charles Hirschhorn - and we met Stanley at the Pink Turtle (a restaurant in the Beverly Wilshire Hotel). We ended up doing a deal on a napkin. Launer re-wrote the screenplay - which was largely editing, tweaking and cutting more dated and stylized stuff. He also changed the ending where the mark turns out to be a con artist herself.
The movie was set up at Orion starring Michael Caine and Steven Martin, and introducing Glenn Headly. And was titled Dirty Rotten Scoundrels.
His next project was Love Potion #9, a screenplay he wrote after Ruthless People. He made a deal with 20th Century Fox, and part of that deal allowed him to direct this movie with "unknowns." He cast Tate Donovan and Sandra Bullock and made the movie in Atlanta. It was given a limited release, and didn't perform as well as his other films.
The next movie was one he wrote and produced - an original screenplay called HIS COUSIN, VINNY. This was one of his very first movie ideas - inspired by the fact that some lawyer in California took 13 attempts to finally pass the bar exam.
He took a trip down south to do story research, starting in New Orleans, where he picked up a car, drove up through Mississippi, over to Alabama and down to the gulf coast. Along the way his car got stuck in the mud - which he worked into the story. He also noticed grits on every menu - which also got worked into the story. He stopped in the town of Butler, knocked on the door of the district attorney and had a chat with the deputy DA who reminded him of actor Lane Smith. This character found its way into the story (and Lane Smith played the part in the movie). Launer noticed they have gigantic cockroaches down there and that was massaged into a scene, but the director took it out for reasons that still mystify Launer. A screech owl too made it into the story. Everyone he met was very friendly and helpful, but when he told them he was making a movie that took place in the south - they'd get very concerned - afraid that Hollywood movies always made them look like bumpkins. That too woven weaved into the story.
Jonathan (Nuns on the Run) Lynn was attached as director. Joe Pesci and Marisa Tomei were cast in the leads, and Fred Gywnne as the judge. It starred Joe Pesci and won an Oscar for Marisa Tomei.
He wrote a sequel to Vinny - Joe wanted to do it, but Marisa didn't. Now she does, and so does Joe, but the studio isn't terribly interested in the remake, feeling too much time has passed since the initial release. Perhaps everyone who liked it has passed on. Or changed their minds. Launer hopes they will see the light.
Entrance * Press * California Living Piece * Premiere Magazine Article * Digital Cinema Article * Bio * Short Dale Launer Bio * Long Dale Launer Bio * Pics * Tom's Nu Heaven Movie Stills * Pictures of Dale * Flicks * Toms Nu Heaven Trailer * Filmography * Words * Creative Hints and Cheats for Writers * The Simple Cure to Writer's Block * National Association of Broadcasters Speech * Response to NAB * Guestbook * Contact * Sitemap * Links
© Copyright 2004 dalelauner.com